LEVITTOWN
N E W J E R S E Y
"...a good place to live"

Location: Township of Willingboro in Burlington County, N.J.
Constructed by Levitt and Sons, Inc.
Open for sales June 7, 1958.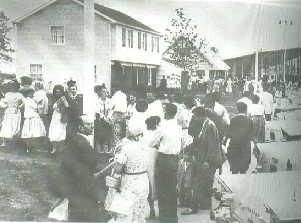 Opening day at Levittown, N.J., June 7, 1958
Potential buyers line up to inspect the House B (Rancher)
sample home; House C (3-Bedroom Colonial) and
House A (Cape Cod) follow, with the modern all-glass
Exhibit Center in the background.
Construction completed in 1972 (includes all Levitt and Sons sections).
First home occupied: 51 Sussex Drive (House A) by Leo and Joan Mount, October 1958.
Prototype homes for Levittown, N.J. were built on Terrace Road in Levittown, Pa.
Levittown Exhibit Center and sample homes located on Route U.S. 130 until 1964.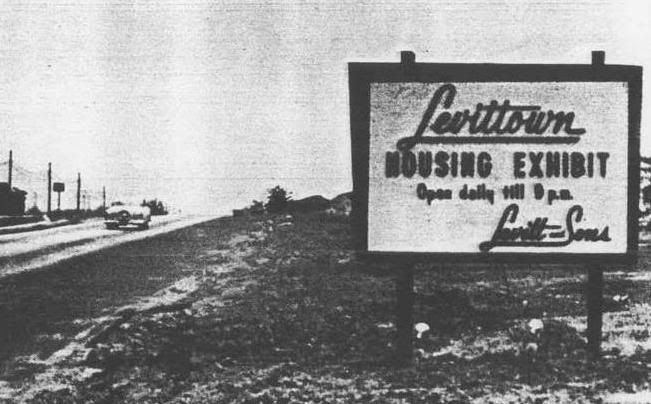 (Click to view full photo)
Levittown, N.J. Exhibit Center on Route U.S. 130, 1958
The Levittown Exhibit Center and sample homes were located
on U.S. 130 at the site of the future Levittown Plaza until 1964.
Construction of Levittown Plaza began shortly after the opening
of Levittown, N.J.

15,000+ homes planned.
Approximately 12,000 homes constructed (includes all Levitt and Sons sections).
Street naming: Alliterative by section name.
Name of municipality officially changed to Levittown by 1959 referendum with a margin of 80 votes.
Name of municipality officially changed back to Willingboro by 1963 referendum. Although there are more recent reports that presume the name change was to avoid confusion with mail delivery to Levittown, Pa. less than ten miles to the north, the newspaper articles of the time tell a different story of a community desiring its own unique identity. See the Levittown, N.J. In the News and the LevittownBeyond Adds sections below.
Official web site for the Township of Willingboro.
The Brochure and Houses for 1958:

BOOKLET
Courtesy Jeffrey Auchter

View the original Information Booklet introducing Levittown, N.J. and the 1958 homes The booklet is first edition, which reflects the price of House A with an unfinished upper floor, an option that was discontinued shortly after the community opened.
1. Cover
2. Foreward
3. Houses, Schools and Swimming Pools
4. Prices and Terms
5. Shopping, Telephones, Standard Features, and the Levittown Exhibit
6. Directions
HOUSES
Tour all six sample homes--three are furnished, the other three unfurnished--and select the style of your new home in Levittown. First residents will select homesites in Somerset Park, Levittown's first of many planned neighborhoods. Two-, three-, and four-bedroom homes are available, all with one-car car attached garage. Included in the sale price are refrigerator, stove, and clothes washer; in addtion, House C has a countertop range with separate wall oven and a clothes dryer. For the first time, all styles of homes are available in the same section for more attractive streetscapes. And schools and community amenities are included! You're sure to find the home at Levittown that suits your needs, for any size family! And remember, at Levittown, there are no hidden charges--"the price we say is the price you pay!"
HOUSE A
RENDERING
PLAN Source: House & Home magazine
1-1/2 Story (Cape Cod). 2 Bedrooms*, 1 Bath*, Covered side entry, Living Room with door to back lawn, Front-facing Kitchen with Serving Counter to separate Dining Area, Folding Screen between Living and Dining Areas, One-car Garage with space and connection for future Dryer. Available in traditional or contemporary exterior.
*House A available with 4 Bedrooms, 2 Baths for an additional $1,000; see commentary below under "LevittownBeyond Adds..."
HOUSE B
RENDERING
PLAN Source: House & Home magazine
Rancher. 3 Bedrooms, 2 Baths, Covered Entry, Rear Living Room with door to back lawn, Kitchen with Garage Access and Serving Counter to separate Dining Area, Laundry-Utility Room with Washer space and connection for future Dryer, One-car Garage. Available in traditional or contemporary exterior.
HOUSE C
RENDERING
PLAN Source: House & Home magazine
2-Story Center-hall Colonial. 3 Bedrooms, 2-1/2 Baths, Covered Entry (Elevation 2 Only), Entry Foyer, Front-to-rear Living Room, Formal Dining Room with built-in China Closet, Kitchen with Separate Wall Oven and Countertop Range, Serving Counter to Family Room, Rear Family Room with door to back lawn, Laundry-Utility Room with Washer and Dryer and Garage Access, Master Bedroom with two Walk-in Closets, One-car Garage.
The 1959-1972 Houses:
LEVITTOWN, N.J. THROUGH THE YEARS
1959 1960 1961 1962 1963 1964

1965 and Beyond: Levittown Reinvented
See the Willingboro communities listed in the side panel, starting with Garfield Park at Willingboro and Country Club Ridge.

LEVITTOWN, N.J. IN THE NEWS
View press releases and news articles for Levittown, N.J.

House & Home Magazine
Article 1
"Bill Levitt's third big town: more value for less money"--opening of Levittown, N.J. (8/1958)
Page 72-73 74 75 76-77 78-79 80 82 84
Article 2
"Look how Bill Levitt is meeting the changing market: More house, more money, more value"--changes for 1960 houseline and introduction of completely new Rancher model. (9/1959)
Page 138 139 140-141 142-143
Article 3
"New price high for Bill Levitt..."--preview of the Manor House model, under construction. Note that the caption and sign pictured in front of the model refer to it as the Country Clubber. However, the Country Clubber name was ultimately given to another model that was introduced shortly thereafter (see Article 4, below). LB.com cannot confirm whether the Manor House was simply mislabeled, or if it was the original intent to refer to it as the Country Clubber. (12/1959)
Article 4
"Look what Bill Levitt is doing with his story-and-a-half model"--introduction of the Country Clubber model. (11/1960)

Philadelphia Inquirer
Article 1 "Levitt Model Proves Popular In New Project" (7/13/1958)
Article 2 "Fall Occupancy Is Planned for Somerset Park" (7/20/1958)
Article 3 "Exterior and floor layout of traditional two-story house" (10/5/1958)

New York Times
Article 1 "Levitts Get Tract for Jersey Housing" (1/28/1955)
Article 2 "Jersey Levittown Split on Restoring Willingboro Name" (10/20/1963)

ADVERTISING LEVITTOWN, N.J.
View original newspaper sales advertisements for Levittown, N.J.

Philadelphia Inquirer
Ad 1 "This is Levittown, New Jersey"--the introductory ad for Levittown, N.J. (7/13/1958)
Ad 2 "Value, Beauty, and Charm FOUR BEDROOMS, TWO BATHS $11,990; $87 a Month!"--profile of the Cape Cod model (House A). (7/20/1958)
Ad 3 "In Somerset Park, Levittown EIGHT ROOMS, 2 1/2 BATHS $14,490"--profile of the Colonial model (House C). (7/27/1958)
Ad 4 Another profile of the Cape Cod model, showing the contemporary elevation. (8/10/1958)
Ad 5 "In Somerset Park, Levittown $12,490; $90 A MONTH!"--profile of the Rancher (House B) model in traditional elevation. (8/24/1958)
Ad 6 Another profile of the Rancher model, showing the contemporary elevation. (9/14/1958)
Ad 7 Alternate traditional elevaltion of the Cape Cod model; this elevation replaced the contemporary elevation. (9/21/1958)
Ad 8 Alternate traditional elevation for the 3-Bedroom Colonial model; the interior of this model would be reconfigured for 1959 to create a 4-Bedroom version of House C. (9/28/1958)
Ad 9 Redesigned exterior for the Rancher model with front portico; the exterior was redesigned reportedly to boost sales of House B to maintain a balance between the three models for a varied street view. The Rancher model would be completely redesigned for the 1960 houseline. (10/5/1958)
***MORE LEVITTOWN, N.J. ADS ARE COMING SOON***

LEVITTOWNBEYOND ADDS...
The quotation under the community heading was the conclusion of a sociological study conducted by Herbert J. Gans, published as The Levittowners: Ways of Life and Politics in a New Suburban Community. In the end, Gans concluded, "...whatever its imperfections, Levittown is a good place to live." Gans was among the first occupants of Levittown, N.J. and lived there for two years for the purpose of studying, as a participant-observer, the interactions among residents of a new community. Gans' conclusion was a much larger statement about suburbia in general--at the height of its vulnerability to urban critics as a vapid sea of homogeneity--than specifically about Levittown.
In addition to the obvious visual transformation from rural community to nearly instant suburb and new community, Levittown, N.J. had quite a changing history over its more than fourteen years of development by Levitt and Sons--the Township boundaries were changed, had its opening undermined by a newspaper strike, underwent two name changes, was forced to integrate its sales, completely changed its focus and method of marketing of the community, and was a lab for many of Levitt and Sons' experimental housing concepts, including the townhouse and modular construction.
Initial construction of Levittown, N.J.
For the first time, all homes would be available right next to each other on the same street in the same section. In Levittown, N.Y., only one basic house type, subject to annual modification or redesign, was available throughout the entire project. In Levittown, Pa., several models were available for sale concurrently. However, each section was phased so that only one house type was built in a particular section or phase. In the first two Levittowns, several exteriors were available and setbacks from the street were varied to soften the monotonous look. This was typical of many Levitt communities even before Levittown, N.Y. The mixing of house types in Levittown, N.J. was actually suggested by Bill Levitt's wife, Rhoda.
Early Levitt Brochures
Until the early 1960s, Levitt and Sons typically included only the renderings, basic prices, and information on the community in the brochure in the form of a booklet. Floor plans were generally not included in the booklet, creating an air of intrigue to encourage a visit to inspect the sample homes.
Levittown or Willingboro?
The name change from Levittown back to Willingboro is an ironic reversal of fortune, of sorts. When renamed from Willingboro, Levittown, N.J. was the only one of the Levittowns that was an incorporated municipality. Levittown, N.Y. was spread over six towns and Levittown, Pa. over three townships and one borough. Not only were the first two Levittowns no more than a mailing address or post office, but they were not even fully within one municipality, further threatening to dilute the Levittown name. Levittown, N.J. was completely within the boundaries of Willingboro Township. When the name was changed to Levittown Township, things finally fell into place--Levittown was the offical name of a municipal corporation and not part of another entity under some other name. The fully built community was still within one municipality, and comprises almost all of it--whether you call it Levittown or Willingboro. With the reversion to the Willingboro name, the main arterial through Willingboro was also renamed--from Levittown Parkway to Levitt Parkway. Consider it a de-facto tribute to the Levitt family.

More about the 1958 Models
House A, the Cape Cod, was originally offered in two variations on the interior plan: one with an unfinished half-story expansion option, the other with a fully finished half-story with two more bedrooms and another bath for an additional $1,000. Within two weeks of opening the Levittown exhibit in 1958, the unfinished half-story option was dropped from the houseline due to lack of interest. The only version of House A then offered was the fully finished 1-1/2-story model. Apparently, the two additional bedrooms and additional bath were a bargain at $1,000. The Levitt twist: the new price of the fully finished version was reduced by $500 to $11,990! The other interesting fact to note in the selection of House A for purchase is that House A was the only model available with four bedrooms: the four-bedroom version of House C would not be developed until mid-1959. Ironically, the house that could sleep a larger family had the least amount of space in the general livng areas of the three homes available. In Prof. Herbert Gans' sociological study of Levittown, N.J., published as The Levittowners, it was reported that famliy size generally was the determining factor of which model new Levittown residents would select for purchase. Back to basics: interestingly enough, the expansion attic that made Levitt famous 12 years earlier would reappear about 12 years later in other Levitt communities when rising interest rates and an energy crisis translated into less purchasing power for homebuyers. The expansion plan would once again open the new housing market to a larger population who might otherwise not be able to enter the market.
House C, the 2-story Colonial, was somewhat of a variation on the Colonial model offered in the last year of sales in Levittown, Pa. In the new version, however, the stairway was roatated 90 degrees to fit a Family Room at the rear of the house--this is the first time such a feature was offered in a Levitt home. As with all of the models, House C was offered in two different elevations. One elevation had a partial front porch. The other had a 2-foot second-story overhang, providing an additional 70 S.F. of living space in the front bedrooms. In 1959, Levitt and Sons reconfigured the upstairs of this version, using the additional space to create a four-bedroom home. The new four-bedroom Colonial had the same first-floor layout as the three-bedroom Colonial.
Furnished Sample Homes
The Booklet for the 1958 homes mentions that there are six sample homes at the Exhibit Center. Both exteriors of the three house types were available for inspection, however only one of each house type was furnished. The homes were furnished by Alice D. Kenny, reported to be Bill Levitt's secretary. Ms. Kenny later bacame Mrs. William Levitt, Bill's second wife.
Prototype New Jersey Homes in Levittown, Pa.
Prototype homes for Levittown, N.J. were built on Terrace Road in the Twin Oaks section of Levittown, Pa. The Cape Cod had three exteriors--two contemporary and one traditional. Current photos of the prototype homes can be viewed at the Levittown, N.J. Today page. Many of the exteriors are in near original condition
Subdivisions and Residential Neighborhoods in Levittown, N.J. not built by Levitt and Sons
While one could say that Willingboro Township was developed entirely by Levitt and Sons and probably encounter little argument from most, a few residential areas pre-date Levitt's development, and two subdivisions were later built on undeveloped parcels within the limits of the Levitt-developed neighborhoods.
At the extreme western point of the Township, Lake Drive is an area of 17 homes, most of which are waterfront lots on Rancocas Creek. This area is accessible only from Route U.S. 130 and lies between Olympia Lakes and Rancocas Creek. While within the Willingboro Township corporate limits, is not contiguous with the rest of the Township. In fact, when South Jersey's area code was changed from 609 to 856, this area was included in the change while the remainder of Willingboro retained the 609 area code.
Rose Street and Pine Street pre-date Levittown. 18 homes occupy these streets, primarily of 1940s-1950s vintage. Pine Street connects with Route U.S. 130 and Rose Street connects with Beverly-Rancocas Road; Pine and Rose Streets intersect one another. An early zoning map reveals that a few additional streets were planned, with the land further subdivided into homesites, but never so developed. This neighborhood adjoins Rittenhouse Park, into which Pine Street was extended when the area was developed by Levitt and Sons. Some of the Rittenhouse Park homes have a Pine Street address--the only direct inconsistency in the Levitt street-naming convention in Willingboro.
Martins Beach is a community located along Beechnut Lane at the southerly end of Kennedy Way and pre-dates Levittown. Homes on the south side of the street are waterfront lots on Rancocas Creek. The easterly end of Beechnut Lane adjoins Twin Hills. When Twin Hills was constructed, Troy Lane connected the new homes with Beechnut Lane. In the late 1990s, however, timber planters were installed across Troy Lane so that Beechnut Lane could not be used for cut-through traffic to Kennedy Way.
Statesman Park is a subdivision located on Sandal Lane between the easterly side of Somerset Park and the Township corporate limit. A stub for Sandal Lane was built by Levitt and Sons on Southampton Drive for a connection to a future street, as was common practice when an adjacent parcel was not planned for immediate development. This stub was extended through a narrow parcel by another developer in the late 1970s, on which 37 homes, all ranch or bi-level, were built. Because the parcel was narrow, the homesites on Sandal Lane are much more shallow than the standard 65'x100' standard lot size of the initial Levittown, N.J. sections. It is not known why this narrow parcel was not available as part of the initial development of Levittown as part of Somerset Park.
Deerpark at Willingboro is a subdivision that was begun in 1989 on a parcel that was formerly the site of last British Royal Governor of New Jersey Sir William Franklin's summer home and deer park. A portion of this parcel was reserved for future development of a church, while another portion was used to build jughandle* ramps for turning movements at the intersection of Kennedy Way with Beverly-Rancocas Road. The church site and remaining land adjacent to the jughandle ramps were subdivided into homesites on streets named beginning with the letter D, keeping with the Levitt convention, off Kennedy Way. Streets were constructed, utilities installed, and homes of contemporary styling complete with large windows and curved exterior walls were either completed or started on 29 of the 57 homesites. However, the development was not completed and many of the homes remained unfinished until the remaining homesites were developed with traditional homes as the Estates at High Point in 1995, completing the subdivision and forming this small enclave of homes.
*For those who have not visited New Jersey, the jughandle is a transportation innovation developed by New Jersey in 1959--along with the Traffic Circle (Pennsauken, 1925), Cloverleaf (Woodbridge, 1929), and New Jersey Barrier (early version-U.S. 22, 1955; current form, 1959). The jughandle is a ramp that requires traffic to leave the highway from the right in order to make a left turn. A ramp curves away from the main road and intersects the crossroad, at which a left or right turn can be made. A left turn would then bring the motorist back toward the main road to travel either striaght across the main roadway (completing the left-turn movement) or make another left turn onto the main road (creating a U-turn movement). This innovation is employed extensively throughout New Jersey, primarily on multi-lane arterial highways, and places all turning movements at the right side of the highway, keeping decelerating traffic in the right lane. Delays due to excessive queueing on the ramp and crossroad are also kept off the main highway.
Page last revised 7 November 2012.